What services does Fermelia Dental provide?
The real question is what services Fermelia Dental doesn't provide. The answer is not many. As a Willow Creek Way dentist, Dr. Fermelia has four specialists on her team and partners with them to get you the care you need.
Need implants? Full mouth restoration? Full teeth replacement? No problem. Fermelia Dental can provide you one treatment plan and seamless experience along with financing to get it all done.
Specific Services Including Specialists

General Restorative – Crowns, bridges and fillings
The most common dental procedures involve the removal of decay and replacing the tooth structure with a material that is going to last. Tooth decay is an infection eating away at the tooth structure.
By visiting Dr. Fermelia regularly and removing decay early, patients not only reduce long term dental expenses, but keep their teeth longer. Dr. Fermelia uses high quality filling material and crowns to replace the decay.

Cosmetic Dentistry
Dr. Fermelia has been restoring smiles in Lakewood for over 25 years. She uses the highest quality materials to give her patients a smile they feel good about showing off.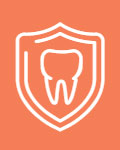 Full Mouth Reconstruction
As a person ages, their teeth can become worn down from decay, use, grinding and malocclusion. If caught early enough, full mouth reconstruction can be completed to restore a beautiful smile and increase the longevity of natural teeth.

Dental Implants including full teeth replacement
Missing teeth can damage surrounding teeth and bone structure. Dental implants provide a cost-effective long-term tooth replacement option. Dr. Fermelia works directly with her oral surgeon, Dr. Haeman Noori and her partner, Dr. Mary Blakeley to provide her patients a full range of implant options including replacing all teeth with implants.

Gum Grafting
Gum recession might seem like only a cosmetic issue, but gum recession poses significant risks to a patients overall oral health. As gums recede, bone loss can occur resulting in a lack of structure to hold teeth in place. Left unchecked, this can result in tooth loss.
Dr. Fermelia works with her periodontist, Dr. Janie Boyesen, to provide patients the option of gum grafting to avoid the damaging effects of gum recession.

Periodontal Surgery and LANAP®
Periodontal disease exists in 47% of the U.S. adult population. Good homecare and regular cleanings can prevent periodontal disease, but sometimes it gets so advanced that periodontal surgery is required.
Dr. Fermelia works with her periodontist, Dr. Janie Boyesen to provide patients periodontal surgery as well as LANAP® laser surgery, an alternative to periodontal surgery.

Orthodontics and Invisalign®
There are many consequences to teeth that are misaligned including premature wear. Teeth that don't' come together properly have a similar consequence to tires that are out of alignment. One area of the mouth will wear faster causing teeth to breakdown. This can be prevented by straightening the teeth to an optimal bite.
Dr. Fermelia works with her orthodontist, Dr. Amanda Shaffner-Vanderstelt to provide her patients the option of both traditional braces and Invisalign®.

Root Canals
A tooth can become infected for a variety of reasons, including decay and trauma. When a tooth becomes infected a root canal is performed to clear the infection and increase the long term viability of the tooth.
Dr. Fermelia works with her endodontist, Dr. Brian Minavi to provide her patients root canals.